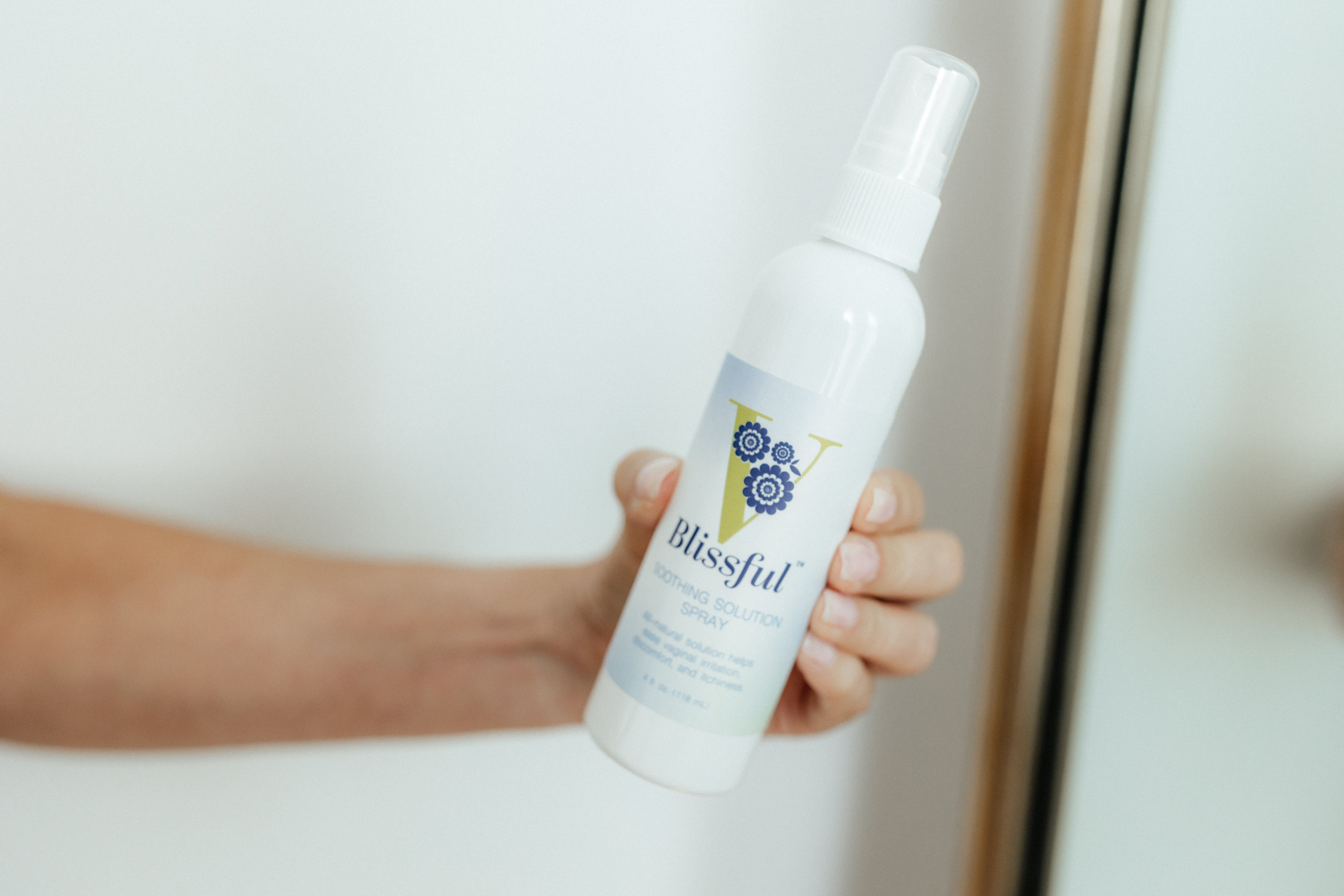 From Casey C:
Great for Sensitive Skin
"I tried V-Blissful this past week and I absolutely love it. I have always struggled with constant yeast infections. I have found that if I wear spandex material underwear or just spandex shorts when playing sports, a yeast infection will develop, however, after using just one dosage of V-Blissful, my issue was resolved and I was able to gain comfort in my clothing. I am able to now wear spandex and not have the itches. V-Blissful is delicate and very calming on the skin. I have not had an issue with a yeast infection since! Thank you for changing my life ❤️ I can now feel comfy, work out and enjoy the sports I love without any complications."
From Kristina P:
What a Relief!
"A friend recommended the V-Blissful Vaginal Soothing Spray. I started using it on a Thursday evening I used it a few times through the evening and the same on Friday and realized on Saturday morning my rash was drying up and not itching! What a relief! I would recommend giving it a try! It's affordable and simple to use."
From Angela S:
Works SO Well
"After many many years without a yeast infection, my doctor put me on medicine for sugar control and it gave me instant yeast infection. It was terribly uncomfortable. I tried over-the-counter medications which made it worse, then my friend told me about this. So, in desperation in the middle of the night, I went ahead and ordered V-Blissful. It was delivered the next day. I started using it right away and it just worked so well! A friend also gave me samples of the suppositories, I started using those just twice and it totally healed everything. So now I use the liquid every day on a panty liner. I'm telling all of my friends. In addition, intimacy has been so much better than it has been in years 😍 No more over the counter stuff! I recommend it to everybody every day."
From Karen T:
Smells Amazing!
"I do not get the issue of yeast infections, but the irritation at times has been almost unbearable and the Vaginal Soothing Solution has definitely given me relief. I am hoping with continued use I will be free completely from the discomfort. Plus, I love how it smells! Thank you!"
From Kattie S:
Total, Instant Relief
"Before V-Blissful, I was regularly irritated. I blamed my workout pants (since they are non-cotton) but I would continue to wear them. Now, every day after I come home from boot camp or any type of exercise, I apply V-Blissful and have instant relief! Since I now apply regularly, I have noticed the irritation has gone down tremendously! I'm so thankful for Stacy and the development of this product!"
From Bea M:
Game Changer.
"I started to feel like I was getting a yeast infection (I was itchy and very irritated down there) but after 1 day of using V-Blissful soothing solution I felt better! I used it the next day just once and it has never come back."
From Angela P:
Easy to Use!
"Easy to use, felt relief in a little over an hour and infection went away by the next day and has not come back! Highly recommend."
From Tammy L:
Totally Works
"Oh my gosh, this stuff totally works for me. I love it! I feel so much better all the way around so now I'm one of your number one customers, thank you so much I can't tell you enough thank you."